What is CIBIL Score?
While reviewing loan applications, banks take a closer look at the potential client's solvency and credit score. Firstly, they examine their income. After this, they scrutinize credit scores. Do many people often ask what the CIBIL score is? In simple words, the CIBIL score is a bank's assessment of a client's trustworthiness based on information from their credit history. The higher the score, the more favorable the bank is to the client. A bank or credit bureau decides whether to approve or reject a loan based on a person's previous loans.
If a person has a high credit rating, he is more likely to get a loan on favorable terms. On the other hand, individuals with bad credit scores often find it challenging to get loans from banks and other financial organizations. If you have a poor credit rating, the bank may raise the interest rate, limit the maximum amount, or even refuse to issue a loan of any kind. So, is it possible to get a personal loan with a low credit score?
Let's Dig Deep: Non-Obvious Reasons That Lower A Person's CIBIL Score?
Applying for a loan from different banks is not a good idea at all.
If you need a loan, you should not send your application immediately to all the leading banks in the country. Submitting applications to several credit institutions looks suspicious in the eyes of the bank's security service. Nevertheless, people in dire need of money or those previously rejected for the loan often do this. By leaving applications in different banks, they hope that at least one of them will lend them. How do the bankers know that you have contacted their competitors? When they receive your application, they will get to the credit history bureau first. It contains data on all requests received from banks and MFIs (as well as all refusals to issue a loan).
Your Became A Guarantor For Other's Loans
People often act as loan guarantors for others' loans. When the primary borrower repays the loan on time, you don't face any problems. If not, the loan repayment liability falls on your shoulders. If you fail to pay off the whole or remaining loan amount, then your credit rating plummets sharply. Thus, a valid guarantee may become an obstacle to obtaining your loan. If banks come to know this, they consider you a risky borrower and may reject your application for the loan. 
Naturally, the presence of a guarantee does not imply an automatic refusal to receive your loan. On the contrary, the bank will make an impartial decision on the mutual ratio of your income, the amount under the guaranteed agreement, and the amount of the loan you requested.
A high-limit credit card
Having a credit card can also become an obstacle while applying for a personal loan. After all, you can use it at any time. But, always remember, the combined payments on a credit card and a new loan will be too much for you.
Generally, banks include 5-10% of the credit card limit in the client's current debt load. In the case of a credit card for 100 thousand rupees, this is about 5-10 thousand rupees of monthly payment (even if you have never paid such money to the bank). Therefore, before applying for a personal loan, clear all pending credit card bills. 
Carelessness in paying off previous loans
In case of the non-repayment of the previous loan, the bank may refuse your application for personal loans. The Non-repayment of the previous loan could have a severe impact on your credit score. Pending loan installments (whether you like it or not) reflect your unstable financial condition. That is why banks and financial organizations would not want to issue a new loan to such a risky borrower as they fear the non-repayment of the borrowed money.
Also Check: Things to Consider While You Are Checking  Credit Score
Existence of non-credit debts
While considering your application for the loan, financiers often find out if you have unpaid debts on alimony, taxes, traffic police fines, utility bills, etc. The reason for this background check is quite apparent. It lets credit lenders feel that when you can't meet your existing financial obligations, how can you repay the newly borrowed personal loans with interest on time.
Credit history of close relatives (in extreme cases)
If a person has applied to a financial institution with zero credit history, then bankers can check the solvency of their relatives. They predict your probability of default on a loan, depending on the quality of the credit history of the borrower's relatives. They use this method only in extreme cases since solvency is an individual quality of a person. Keep in mind that the probability of getting a consumer loan may be affected by non-payments on loans of a close relative.
What Is A Good CIBIL Score?
Demand for different loan products continues is gradually increasing the lockdown removal and opening up the market. So, loan specialists, bank representatives, and financial organizations often receive the same question: what is the CIBIL score for a loan? Simply speaking, it is an indicator that allows banks and financial organizations to know your previous credit records, existing financial condition, and the ability to pay off the loan. A good CIBIL score ranges between 700-900. It allows you to enjoy certain benefits such as quick loan approval, moderate interest rates, an enormous loan amount, and a more extended repayment period. 
CRIF vs. CIBIL
Different banks and financial institutions use the data provided by various credit rating agencies and decide to accept or reject a loan application. Banks and financial organizations widely use CRIF and CIBIL. Both of them are more or less the same. So let's have a comparative analysis of CRIF and CIBIL. 
CRIF
CIBIL
It is one of the essential credit information companies in India.
CIBIL is a summary of your previous transactions and records. The agency prepares the report and helps banks or financial organizations check the credit history or paper and approve or reject your loan application.
CRIF Credit Scores:

| | |
| --- | --- |
| 300–500 | Very low |
| 500-600 | Low |
| 650–750 | Great |
| 750-900 | Excellent |


CIBIL Credit Scores:

| | |
| --- | --- |
| <600 | Low |
| 600-649 | Difficult |
| 650-699 | Possible |
| 700-749 | Good |
| 750-900 | Excellent |
Also Check: The Anatomy Of a Credit Score!
Getting A Personal Loan With A Bad Credit Score: Helpful Tips Recommended By Loan Experts!
Bad credit history, late payments, lack of a permanent job, and earnings- these are common reasons when banks reject your application for personal loans. A bad credit score dramatically reduces the borrower's chances of getting a loan. Banks are not interested in cooperation with obviously unreliable customers. So until recently, it was impossible to get a loan with a bad credit history. In the face of great competition in the banking segment, some banks have simplified the requirements for borrowers. Customers with a damaged credit history can theoretically get a loan but under certain conditions. Here are a few steps that you must take to improve your chances of getting a personal loan, even with poor credit scores. 
Demonstrate Stable Employment & Additional Resources
When you apply for a loan, bank representatives, apart from other things, look into your current employment status, monthly income, and additional sources which give you sufficient money (like room rent, family grocery shop, investment in share market, and mutual funds, etc.,) every month. If you are earning a handsome income regularly and have records to prove it, banks may consider your application for the loan. Show all documents to the bank's representatives and convince them about your repayment capabilities. Banks evaluate your application for a personal loan despite your poor credit scores in the past if your current income and financial condition are stable. 
Clear All Your Pending Bills ASAP
Also Check: Fixing Credit Report Errors Like A Pro
In today's ultramodern and tech-savvy world, even ordinary individuals have many necessities. They never hesitate to use credit cards and even take microloans to meet their never-ending demands. Lack of financial discipline results in a mismanaged life. You have pending bills and loans, and the surprising thing is that you don't have sufficient funds to clear the bills. If you have a bad credit score, pay off all the pending loans and bills before applying for a new loan product. It makes an impression that your current financial condition is OK, and banks can expect timely repayment of the borrowed money. 
Arrangement of Collateral and A Guarantor
Due to unstable financial conditions, banks have made credit lending rules more strict. Moreover, they conduct rigorous background checks to extract your previous credit records and transactions and make decisions accordingly. If you have bad credit scores, arrangement of collateral (employment documents, insurance papers, property documents, gold, expensive vehicles, etc.) and a guarantor is mandatory. The lender will evaluate the current selling value of pledged collateral and decide on an exact loan amount that you can quickly pay off within a set time framework with all applicable interest fees. 
Some people call a guarantor "a second borrower" of the loan. He acts as a security against the borrowed money. If the primary borrower, due to any reason, doesn't pay the loan amount on time, then the guarantor is liable to return the loan in full or partially. Banks and financial organizations can also sell the collateral to recover the pending loan amount.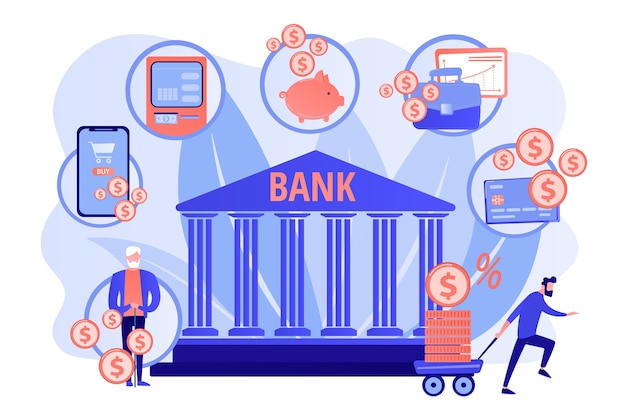 It would not be wrong to say banks and financial organizations always want to give loans to financially reliable and trustworthy credit borrowers. While applying for a personal loan online with bad credit, be alert and follow the standard protocol as instructed by bank representatives. First, determine how much money is sufficient to meet your needs. Banks will not bother to give you a moderate sum as a loan even if you have a bad credit score. All you need to do is to win the bank's trust by all possible means. Follow the documents that confirm your identity, date of birth, employment, financial records, previous credit scores, liquidity, ability to pay back the loan in a timely fashion, etc. If bank representatives don't find anything weird during back check, document verification, interview, and if they are convinced with your loan repayment ability, the chances for approval become pretty higher. 
Taking Help From NBFCs: Highly Recommend For Bad Credit Borrowers
Banks often reject your application for personal loans with bad credit scores if you make silly mistakes, don't follow the due procedures, submit fake documents, or supply incorrect information. Always keep in mind that credit lending rules keep changing from time to time. Ordinary individuals may not have sufficient knowledge about all new developments in the loan market. So, they unknowingly make mistakes, and the bank rejects their loan application. 
That is why you must join hands with NBFCs working in your area. You can choose one of them with the help of an Internet search or on a friend's recommendations. They guide you from beginning to the end when you try to get a personal loan with bad credit scores. Most often, the specialized organizations (such as the buddy loan), the essence of which is to help citizens get a loan, complete all formalities as per the law, and act as a guarantor. Such a guarantee for the bank acts as a reliable guarantee that minimizes the risks of non-repayment. Moreover, it is straightforward to check an organization's solvency, especially if it has a current account with the bank where you apply for a loan. 
Concluding Remarks
Having a bad credit score is not the end of the world as considered by many individuals. You can still get a personal loan by following the tips mentioned above. All you need to do is make the right moves, keep patience and meet the bank's demand to process your application and approve it. Then, get started with the Buddy Loan and receive the much-needed money despite having bad credit scores. Happy borrowing. Experts working with NBFCs complete all formalities rightfully and help you get a personal loan. 
Having any queries? Do reach us at info@buddyloan.com 
Frequently Asked Questions:
Q. What Is The CIBIL Score?
A. In simple words, the CIBIL score is a three-digit credit indicator that allows credit lenders to know about the creditworthiness of loan borrowers. The better the CIBIL score you have, the better your chances of getting approved for a loan. You need to take a lot of measures to maintain a good CIBIL score. 
Q. How To Calculate The CIBIL Score?
A. As per the data, loan applications with CIBIL scores of 750 or more are quickly approved by banks and financial organizations. Upon your request, the authorized body called TransUnion CIBIL Limited calculates the CIBIL score. In addition, it contains information on your previous records such as credit cards, loans, overdraft facilities, EMIs, other pending bills, etc. The bank will look into the report and decide on approving or rejecting your loan application. 
Q. Will CIBIL Score Affect Personal Loan Interest Rates?
A. Yes, CIBIL scores play an essential role in loan approval and the determination of interest rates. If you have a good CIBIL score, banks may approve your loan application quickly with a moderate interest rate. The minimum CIBIL score for a personal loan is between 720-750. 
Q. What Is A Good CIBIL Score?
A. A good CIBIL score ranges between 700-900 as it indicates the stable financial condition of the borrower. As a result, banks process their application quickly and may approve the application if everything is OK. 
Q. Credit Score Vs. CIBIL Score?
A. A credit score is an assessment of the trustworthiness and creditworthiness of a borrower, calculated based on information from their credit history. The credit rating is calculated based on past and current financial history — information about all loans ever issued to the borrower, refusals on them, arrears and delinquencies, as well as the frequency of requests from banks and MFIs. Credit bureaus store this data. On the other hand, the CIBIL score is a three-digit indicator about your precious transactions, loans, bills, etc. The higher this indicator, the more likely you are to get a loan. Banks use both CIBIL and credit scores to evaluate your financial condition and make an appropriate decision accordingly. 
Q. Experian Vs. CIBIL?
A. Fraudulent activities are pretty rampant in the loan business. That is why banks and financial organizations use Experian. An internationally recognized credit reporting service promises to offer a helping hand in business credit and protection from identity theft. However, CIBIL is different from Experian (explained above).